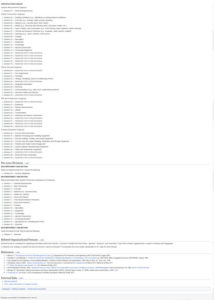 Introduction
Green Building Rating systems such as LEED and GSAS refer to CSI Divisions in the assessment of some credits/criteria. In this article we will discuss what CSI is and how it is related to LEED or GSAS Certification. This article will discuss
What is CSI and what it does?
What role CSI plays in Green Buildings
What standards CSI have developed?
How GSAS Asses Materials
2. What is CSI?
CSI is an abbreviation on construction specification institute. CSI aims to improve construction specification quality by developing and providing
Best practices
Standards
Professional Education
Certifications
Reference: https://www.csiresources.org/institute/csi-history
2. What role CSI plays in Green Buildings?
One of the objectives of Green Buildings is to use sustainable, ecofriendly materials which have lesser Life cycle impact during construction. However all materials need not address this. For instance equipment such as Chiller, AHU, Lifts, escalators etc the energy performance is more important. Hence Green Building rating systems such as LEED and GSAS refers to CSI division to inform what construction materials have to be assessed for sustainability.
3. What products does CSI have?
CSI authors Master Format is an indexing system for construction specifications. Master Format helps architects, engineers, owners, contractors, and manufacturers classify how various products are typically used. CSI master format is referred in Green Building rating systems such as LEED and GSAS. The list of CSI Divisions can be referred from
4. How GSAS Asses Materials where CSI Divisions are referred?
GSAS Material Category includes the following criteria
M1 – Regional Materials
M2 – Responsible sourcing of Materials
M3 – Recycled Materials
M4 – Material Reuse
M5 Structure Reuse
M6 Design for Disassembly and
M7 Life Cycle Assessment
CSI Divisions is referred in M1, M2 and M3
M1 Regional Materials and M2 Responsible Sourcing of Materials asses all materials in CSI Division 3-9, 31 and 32 whereas M3 Recycled content asses CSI Division 10 Specialties as well in addition to Divisions 3-9, 31 and 32
Conserve Solutions will be happy to assist your projects. Our offices are located in India, UAE, Qatar, Saudi Arabia, Canada, United Kingdom, Egypt and Singapore.