Unleashing the Power of Digital Twins: Transforming the Future of Asset Management
The world of built assets is rapidly evolving, and the concept of digital twins has taken Centre stage as a game-changer in the industry. A digital twin is a digital representation of a physical asset and/or process that leverages real-time data flow to improve the operational efficiency of a built asset. From design to construction and facility management and beyond, digital twins are poised to revolutionize the way we manage and maintain assets.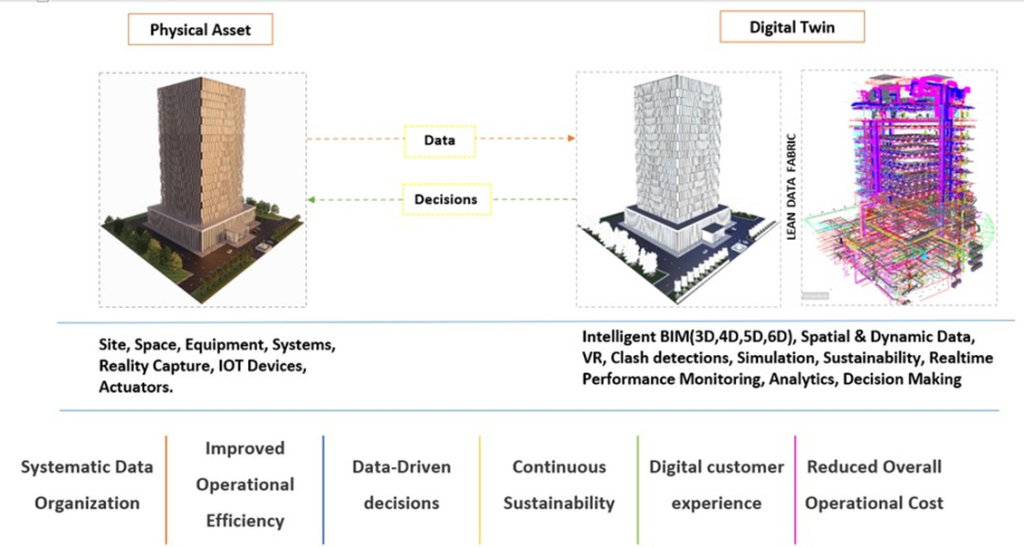 Conserve Solution is an emerging leader in digital twin technology, providing cutting-edge solutions for organizations looking to transform their operations. By leveraging Building Information Modelling (BIM) in the lifecycle, Conserve can assist in creating powerful, customized digital twin solutions that bring new consistency and efficiency to asset management.
Our digital twin solutions go beyond the standard BIM models to create intelligent twins that are optimized for portfolio management. With information management, reality capture, data visualization, simulation & analysis, and facility management, we provide a comprehensivesolution that can transform the way you manage your assets.
Information management allows organizations to create, enrich, and maintain their digital asset data from design through construction to the asset's whole lifecycle. By utilizing cutting-edge laser scanning technology and point cloud data, our reality capture solution reduces time and effort, making BIM models of built assets with accuracy and speed.
Data visualization is an integral part of our digital twin solution, providing organizations with a collaborative common data environment that allows for immersive VR experiences, 3D renders, walkthroughs, clash detections, and construction quality monitoring. Value Engineering plays vital role in the Simulation and Analysis process that enables organizations to perform mathematical finite element models and predict the performance of critical assets during design, procurement, installation, and commissioning within a simulated environment. This not only enhances the overall value with a reduction in cost and time, but also provides organizations with a valuable tool for making informed decisions.
Facility management is the key to unlocking the full potential of digital twins. By integrating the intelligent model with CAFM/CMMS/BAS/BMS real-time dynamic data through IoT and leverage the data analytics, Conserve Solution provides organizations with the tools they need to monitor performance, perform predictive/preventive maintenance, and manage energy efficiently to meet
sustainability goals.
In conclusion, Conserve provides data-rich BIM Models which can readily be integrated and programmed to a Digital Twin. We assist our clients in creating powerful, customized Digital Twin solutions to transform their business. Digital twins are the future of asset management, and we are leading the way with trailblazing digital twin solutions. If you're looking to transform your operations and take your asset management to the next level, contact Conserve Solution today to learn more about our innovative solutions.