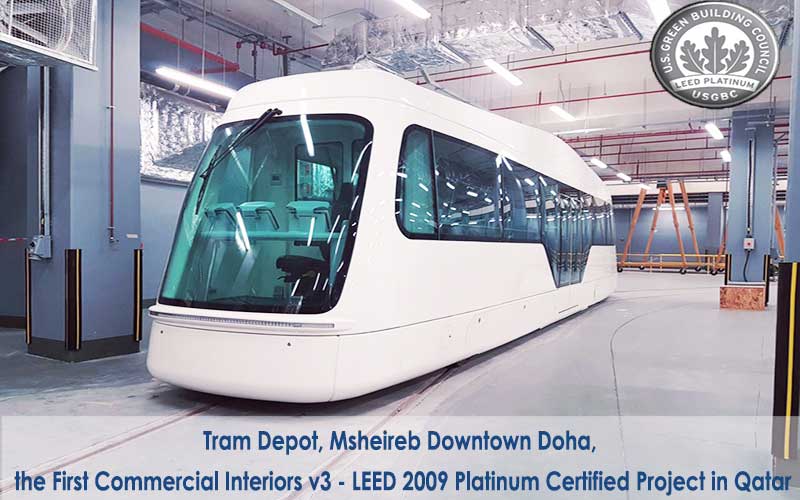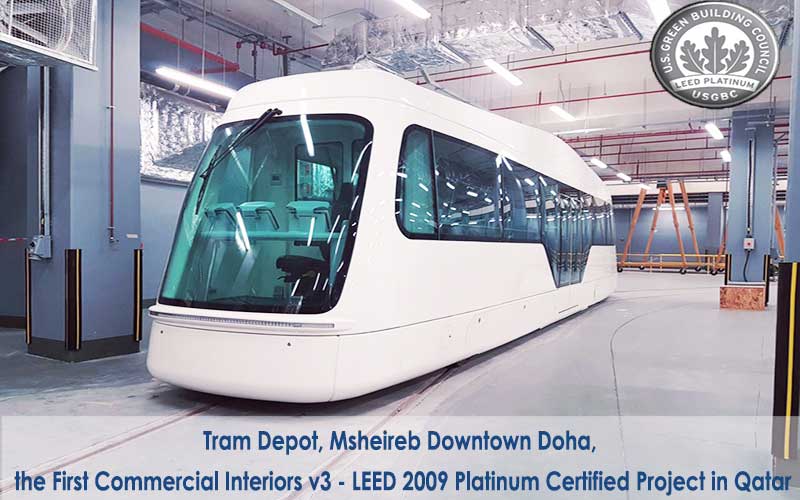 Team Conserve is proud to be a part of successful LEED Platinum Certification of Tram Depot, a Project by Msheireb Properties.
Msheireb Downtown Doha development is a 31-hectare mixed use development located in the center of Doha.The project will be served by a dedicated Tramway system. The Tram Depot is a workshop to maintain the tram and is located on the ground floor of Q03 building of Msheireb Downtown Doha development which covers a gross floor area of 1739sq.m
A Tram and tramway network will operate inside the Msheireb Downtown Doha to help occupants transit within the development without the use of cars or other fossil fuel vehicle.
Msheireb Properties use LEED™ Green Building Rating System as a benchmark. The project was targeting LEED Gold Certificate in LEED ID+C: Commercial Interiors v3 – LEED 2009
Conserve was appointed as LEED Consultant by Brookfield Multiplex.Conserve actively worked with key stakeholders, the client Msheireb properties, Project Management Consultant, Turner Internet Middle East, Qatar. Main contractor- Brookfield Multiplex and MEP Contractor Denver Engineering. Conserve was also appointed as Independent Commissioning Agent to perform to achieve the Energy Credit EA C Enhanced Commissioning.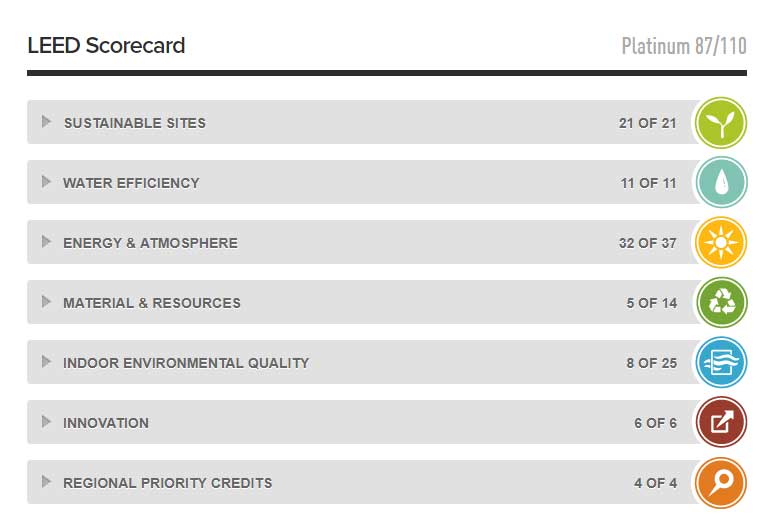 The project was successfully awarded with 87 points out of 110 resulting in LEED Platinum Certificate which exceeds the target of the project.
Incidentally the project is the first platinum certified Commercial Interior Project in Qatar. The project was able to achieve the Platinum Certificate due to the score achieved in Energy 32/37 and water 11/11 categories. The project has also achieved all possible points in the bonus categories Innovation and Regional Priority.
Key Sustainability Features of the Project:
Base building Sustainability Performance
EC Motors for FCU
Efficient Controls for HVAC System
Lighting Power Density much lesser than ASHRAE 90.1 standard
Lighting Controls
Demand Control Ventilation
Water efficient plumbing fixtures such as WC, Urinal and Washbasins
Sub metering system
Our Associate Director, Mr.Sundararaj was leading the project, his vast experience in 100 plus Green Building Projects have helped to achieve this mile stone.
Our sincere thanks to all of our Stakeholders of the project.
Further details of the project is available in https://www.usgbc.org/projects/tram-depot-fitout
Conserve Solutions will be happy to assist your projects. Our offices are located in India, UAE, Qatar, Saudi Arabia, Canada, United Kingdom, Egypt and Singapore.